Pumpkin Cinnamon Rolls with Cream Cheese Frosting – a recipe you're going to love from start to finish! Easy to make, soft and gooey, and full of that amazing fall flavor. The smell alone will fill your home with the best fall scents, as well as cause your tummy to grumble in anticipation.
These soft and gooey treats are topped with a delicious cream cheese frosting. They are perfect with a warm cup of coffee on these cool, fall mornings!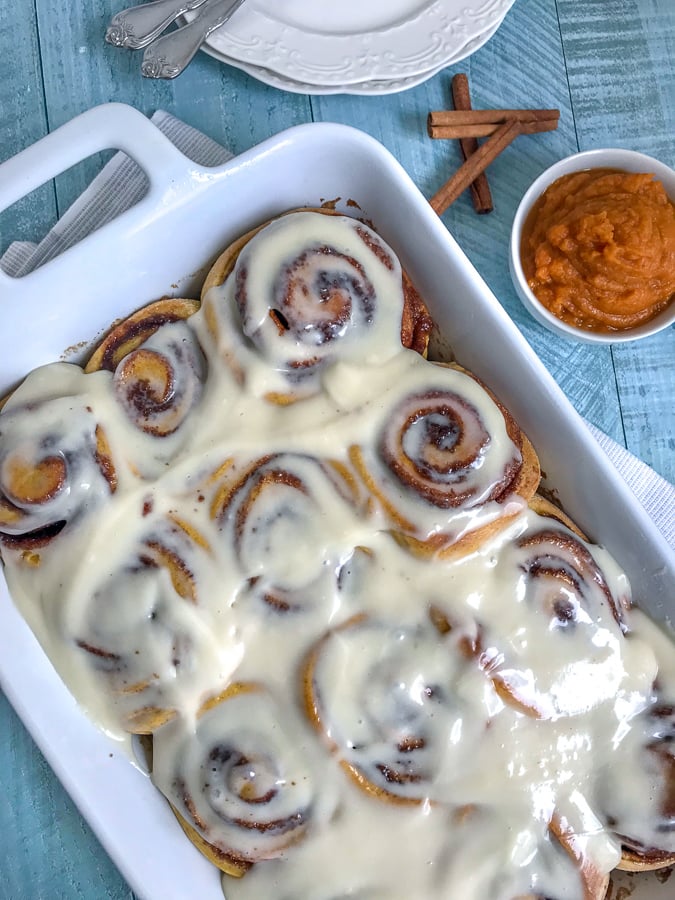 CALLING ALL PUMPKIN LOVERS
If you're a pumpkin-anything lover, or you know someone who is, then make this recipe as soon as possible! These Pumpkin Cinnamon Rolls with Cream Cheese Frosting are warm, soft and gooey (like they should be!), and the perfect way to welcome in all things fall and holiday related.
Trust me when I tell you that you (and hopefully your family and friends) are going to polish these cinnamon rolls off in no time. They are that good. So gather the ingredients, get to baking, and pour yourself a glass of milk to wash these down. You're about to be one happy, pumpkin-loving camper! 😉
Let's not forget the frosting.
The frosting…
CREAM CHEESE FROSTING
Sweet, smooth, and incredibly decadent cream cheese frosting. You are going to be licking your fingers clean. You may even lick the mixing bowl clean! Hey, no judgements here. How do you think I know how good it is??
Cream cheese
Powdered sugar
Vanilla extract
Half & Half
All four come together to make a creamy, sticky, and sweet frosting that compliments the pumpkin, cinnamon flavors of this recipe quite well. Make the frosting by combining the powdered sugar, cream cheese (best if softened to room temperature), vanilla extract, and half & half into a small mixing bowl. Beat until smooth and no clumps remain. I find that using a fork with break up and mix the cream cheese works a little better than using a whisk.
Spread the frosting all over the warm cinnamon rolls and devour! Remember, its ok to share!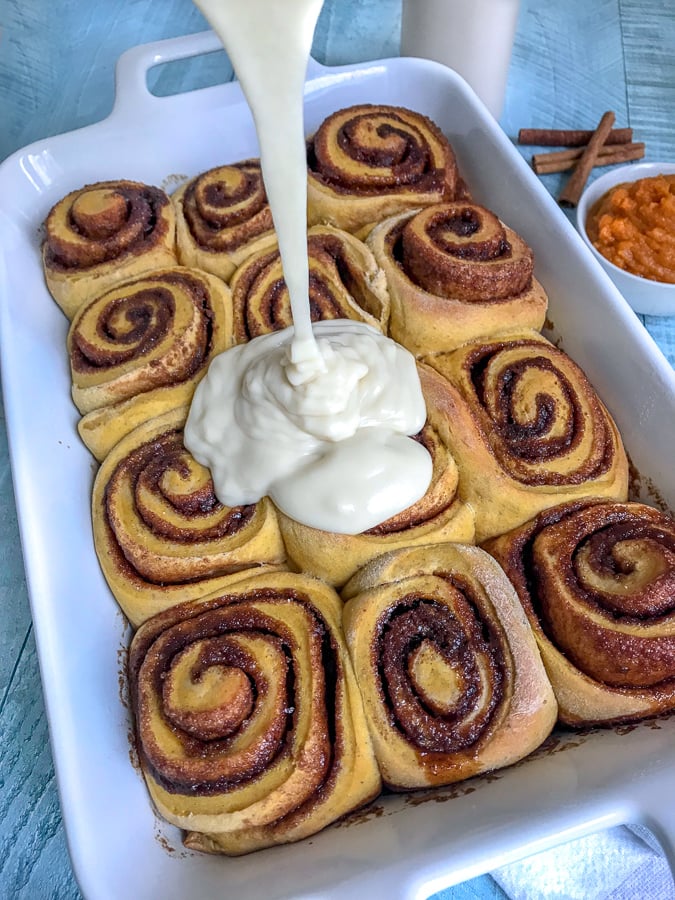 MORE DELICIOUSLY SWEET RECIPES TO TRY
TIPS AND GOOD THINGS TO KNOW
→ Rolls are best served warm. To reheat in the microwave: 15+ seconds. Be careful as the center may be very hot! Oven: 350 degrees F, covered, for approximately 10-15 minutes.
→ If you are wanting to control portion sizes and freeze some for later, I would recommend making the dough with the filling and baking completely. Allow them to cool before placing them into the freezer. Glaze them when thawed and rewarmed.
→ The pumpkin spice really helps to bring out the pumpkin flavor in this recipe, so don't skimp on the spice at all!
→ If your knife is sticking while slicing, flour the knife or use plain dental floss to wrap around the roll and slice.
→ Don't use cold ingredients in the dough! Make sure the milk is heated properly for the yeast and the butter is softened to room temperature.
→ Make sure to roll the dough tightly. The dough will expand when it bakes, so you want to make sure to roll it tight to keep the filling on the inside and to prevent them from baking apart!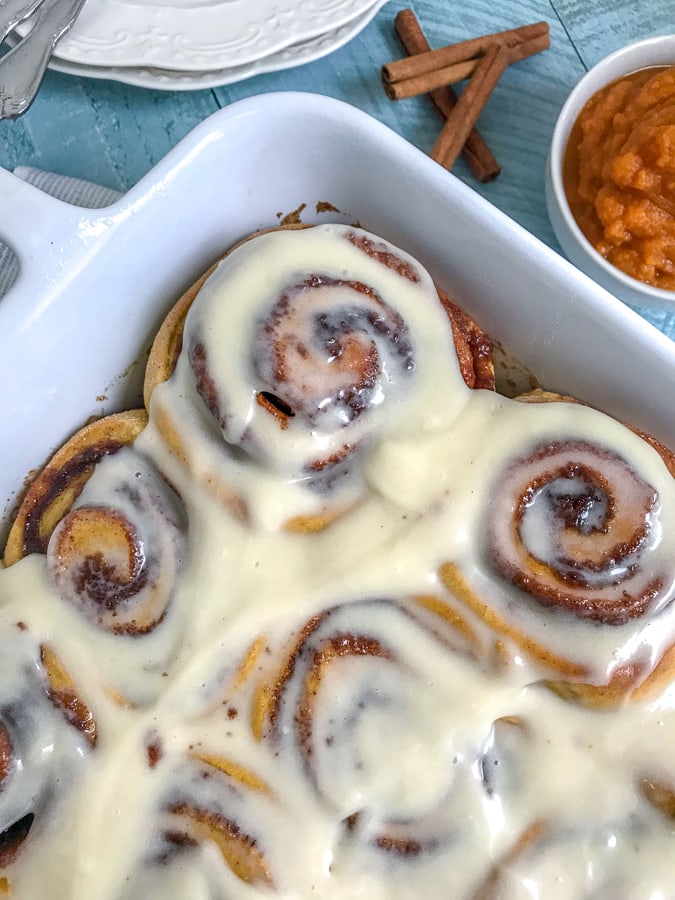 Some of the links below are affiliate links. This means that if you choose to make a purchase via the link provided, I will earn a commission. This commission comes at no additional cost to you whatsoever. I recommend these products because I have tested them and find that they are helpful and worth the cost; not because of the small commissions I make if you decide to make a purchase.
TOOLS USED TO MAKE THESE PUMPKIN CINNAMON ROLLS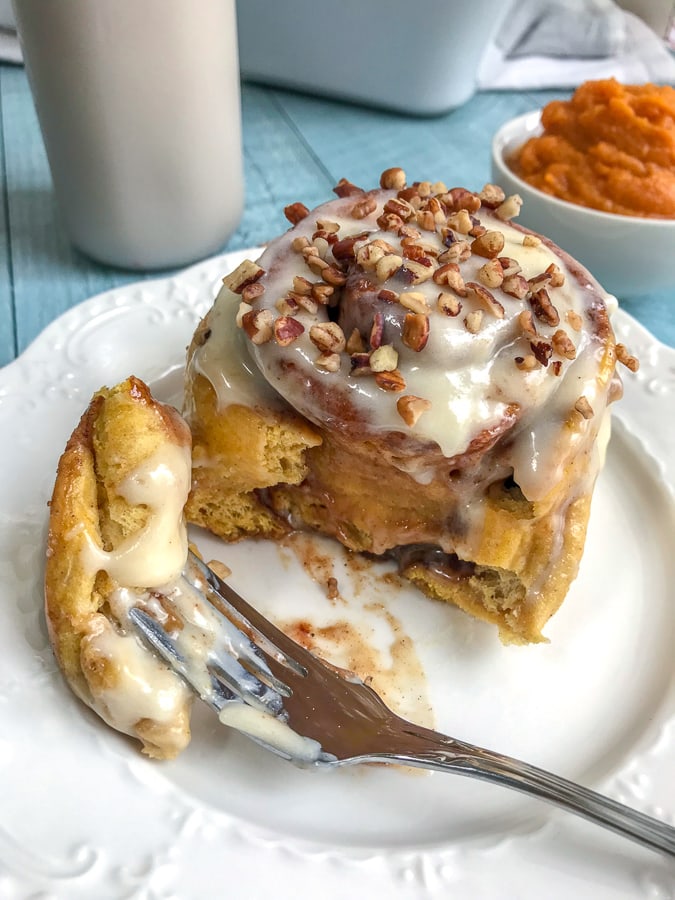 DON'T FORGET TO SUBSCRIBE TO
With Peanut Butter on Top
TO STAY UP TO DATE WITH NEW RECIPE POSTS – DIRECTLY TO YOUR INBOX!
I WILL NEVER SEND YOU SPAM!
JUST SCRUMPTIOUS, FREE RECIPES!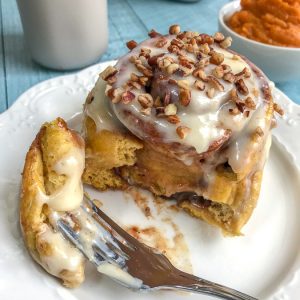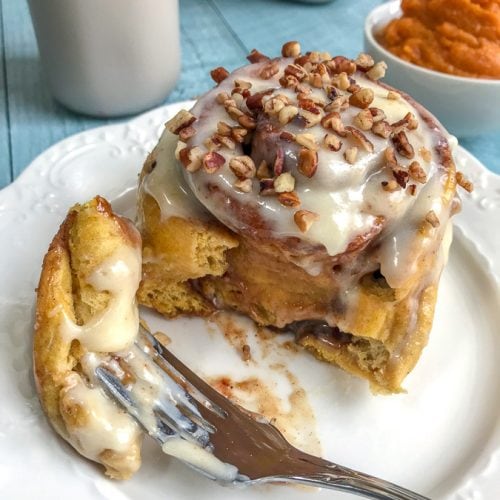 Pumpkin Cinnamon Rolls with Cream Cheese Frosting
This recipe is the perfect way to introduce fall-flavors into your life and home! Each roll is soft, gooey, sticky, and full of flavor. It starts with the pumpkin-flavored dough that is rolled up in a sweet pumpkin spice filling, and then coated with the most delicious cream cheese frosting!
Total Time
1
hour
45
minutes
Ingredients
Dough:
4

cups

all-purpose flour

1/3

cup

light brown sugar

1

tbsp + 1 tsp

pumpkin spice,

also known as pumpkin pie spice

2/3

cup

pumpkin puree

1/4

cup

butter,

softened to room temperature

1/2

tsp

salt

2

large

eggs

1

tbsp

instant yeast

3/4

cup

half & half,

or sub milk, warmed to 110-115 degrees F
Filling:
1 1/4

cups

light brown sugar

1/3

cup

butter,

melted

1

tbsp

ground cinnamon

1

tbsp

pumpkin spice,

also known as pumpkin pie spice
Cream Cheese Frosting:
4

oz

cream cheese,

softened *SEE NOTES BELOW

1

cup

powdered sugar,

more or less *SEE NOTES BELOW

1

tsp

vanilla extract

2-3

tbsp

half-n-half,

or sub milk
Instructions
Dough:
To a glass measuring cup, combine yeast with warmed half-n-half (or milk). Make sure the liquid is between 110-115 degrees F. Check the directions on the back of the yeast package to see the exact temperature for that yeast product, to be mixed with liquids.

To a mixer or bowl, combine flour, brown sugar, pumpkin spice, pumpkin puree, butter, salt, and eggs.

Combine the milk and yeast mixture with the rest of the dough ingredients and run mixer (or hand mix) for 5-7 minutes to form a ball of dough.

Spray a bowl with nonstick cooking spray, transfer the dough over, and cover with parchment paper or plastic wrap. You may need to spray the side covering the dough with nonstick spray to prevent possible sticking when the dough rises. It will rise to approximately twice it's size.

Leave to rise for 1 hour.

When ready, preheat oven to 400 degrees F and spray a 9x13 pan with nonstick spray.

Lightly flour your countertop to cover a 16" x 22" surface.

Roll the dough out into a 16" x 22" rectangle that is approximately 1/4" thick. Coat with the melted butter from edge to edge, covering completely.

Sprinkle brown sugar, cinnamon, and pumpkin spice over the top.

Carefully roll the longer bottom edge to the top edge, so that the roll is approximately 22" long. Start by slicing down the center, creating two halves. Then slice down the center of those halves, and so forth. I find it's easier to get more consistently even slices this way. You should have 12 rolls total.

Place each roll into the prepared baking dish and bake 15-20 minutes. I found they were perfect at 15 minutes, but I like mine a teensy bit gooey. Check at 15 minutes.

While the cinnamon rolls are cooling, combine the cream cheese, powdered sugar, vanilla extract, and half-n-half into a mixing bowl. Add the half-n-half 1 tablespoon at a time. Some may like their frosting thick, while some may like it more thinned out.

Spread the frosting over the top of the rolls, making sure to cover each one thoroughly.
Recipe Notes
BE SURE TO READ THE HELPFUL TIPS ABOVE IN MY POST BEFORE MAKING THESE!
YEAST: Make sure the half-n-half (or milk) is warmed to 110-115 degrees F prior to adding the yeast. Double check the instructions on the back of the yeast packet or container for the exact temperature needed.
CREAM CHEESE: It is easier and best to making cream cheese frosting if the cream cheese it softened at room temperature. Otherwise it won't mix well or create that creamy texture you need.
POWDERED SUGAR: When mixing the icing together, be sure to taste test the frosting to see if you prefer it to be a bit sweeter. Add an additional tablespoon at a time until it reaches your level of sweetness.
HALF & HALF:  It is equal parts milk and light cream.
Nutrition Facts
Pumpkin Cinnamon Rolls with Cream Cheese Frosting
Amount Per Serving (1 frosted cinnamon roll)
Calories 440
Calories from Fat 117
% Daily Value*
Total Fat 13g 20%
Cholesterol 60mg 20%
Sodium 161mg 7%
Potassium 184mg 5%
Total Carbohydrates 74g 25%
Protein 7g 14%
* Percent Daily Values are based on a 2000 calorie diet.