Sometimes you just need a few sprinkles to brighten your day. Especially when the wintertime feels as though it will never end!
I have had a major sweet tooth lately. Who am I kidding? I always have a major sweet tooth! Lately I have been craving a frosted chocolate cake. I have not allowed myself to make one because I know I will eat more than one piece in a sitting. Cakes and pastries are my weakness. I could make a mugcake, I know, but I am craving the real thing. A mugcake is a nice substitute, but doesn't fully replace cake when you're wanting cake!
Onto the Chocolate Chip Cookie Dough Bites!
Nutrition Breakdown Per Bite (without sprinkles, optional):
What you will need:
1 cup cashew butter, or nut butter of choice
1 tbsp. stevia, or sweetener of choice, optional*
1/4 tsp. butter flavor/extract
1 tbsp. Enjoy Life Mini Chocolate Chips
3 tbsp. Enjoy Life Mini Chocolate Chips
*Sweeten to taste. Additional Stevia is optional.
Directions:
Combine all ingredients, minus the chocolate chips, into a food processor and pulse until thoroughly mixed. Fold in the tablespoon of chocolate chips last. Using a tablespoon measuring spoon- scoop out and roll 20 bites. Place each bite onto a plate lined with parchment paper. Once rolled, place into the freezer until needed. In a small saucepan over low heat, melt the chocolate chips. Once the chocolate has melted, remove the bites from the freezer. Place the bites, on top of the parchment paper, onto the counter and space them out. Spoon the melted chocolate into a Ziploc bag, cut a tiny piece of the edge, and drizzle the chocolate over the top.  Add sprinkles (optional) and place them, including the parchment paper, back onto the plate and into the freezer until the chocolate has hardened. Remove and enjoy! Keep refrigerated.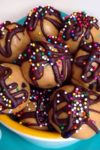 Chocolate Chip Cookie Dough Bites