Loaded Chili Cheese Fries – nothing will hit the spot like these loaded fries will! Best part? They are homemade fries with ground chicken meat, a little cheddar cheese, Avocado Salsa, and Greek yogurt!
These fries are perfect in so many ways. They are baked and crispy and full of flavor. This dish is a lightened up version of everyone's favorite bar appetizer. Because life is too short to not allow some indulgence!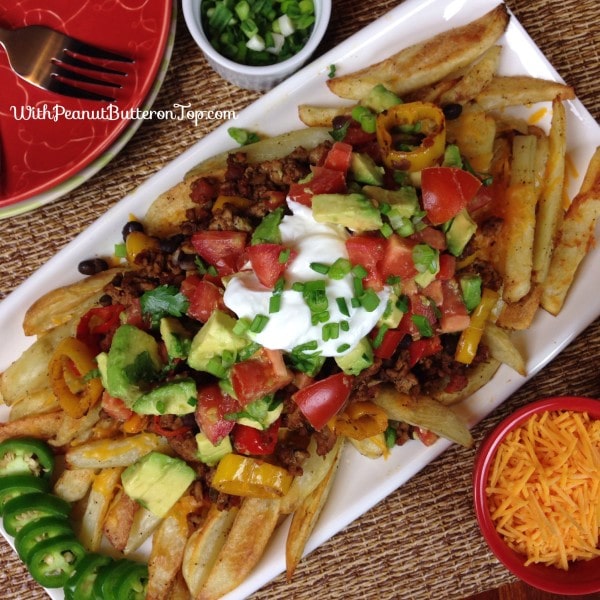 These chili cheese fries combined with the Avocado Salsa, Greek yogurt, cheddar cheese, and the crisy potato wedges are cravings perfected! And they're clean! I know what you're thinking… How can a normally unhealthy indulgence such as this be healthy or something that makes it onto your dinner menu this week.
I say – don't knock something until you've seen the recipe or tried it.
I fully believe in moderation and in no way depriving yourself of the things you crave. And I always have cravings for these type of comfort foods. This "healthified" comfort food recipe is sure to please without a trace of disappointment in it not being the "real deal."
Might I add that this homemade rendition is much lower in calories than the traiditonal chili cheese fry dishes because it is:
1. Made with lean ground chicken – not beef. You're more than welcome to substitute with turkey or beef. Or omit for a #MeatlessMonday dish.
2. The fries are baked, not fried.
3. The avocado salsa is packed full of flavor from the cilantro to the lime juice.
4. Did I mention the healthy fats of the avocado? Who doesn't love avocado!
The truth of the matter is, you can make comfort foods at home, in a healthier way, without the guilt. So when you're craving chili cheese fries – make chili cheese fries! You can save hundreds of calories and better moderate your portion control thanif you were to order these at your favorite bar/restaurant.
If you want to spice up the Avocado Salsa in this recipe, perhaps try it with my Avocado Corn Salsa!
DON'T FORGET TO SUBSCRIBE TO With Peanut Butter on Top TO STAY UP TO DATE WITH NEW RECIPE POSTS – DIRECTLY TO YOUR INBOX! 
I WILL NEVER SEND YOU SPAM!  
JUST SCRUMPTIOUS, FREE RECIPES!
Loaded Chili Cheese Fries

Loaded Chili Cheese Fries - nothing will hit the spot like these loaded fries will! Best part? They are homemade fries with ground chicken meat, a little cheddar cheese, Avocado Salsa, and Greek yogurt!

Total Time

1

hour

5

minutes

Ingredients

Fries:

4

large russet potatoes - peeled and cut into 1/4" wedges

approx. 3 1/4 lb

2

tbsp. olive oil

1

tsp

sea salt

1

tsp

black pepper

1

tsp

garlic powder

Chili:

15 oz. can black beans

rinsed, 1/2

1/2

lb

ground turkey breast

1

bell pepper

diced

1/2

tbsp. minced garlic

1/4

cup

white onion

chopped

10 oz. can diced tomatoes with lime

cilantro & green chilies*, 1/2

1/2

tbsp

chili powder

1/2

tsp

ground cumin

1/2

tsp. dried oregano

1/8

tsp. cayenne pepper

Garnishment:

1

avocado

diced

1

roma tomato

diced

Juice from 1/2 lime

1

tbsp

fresh cilantro

chopped

1/4

tsp. garlic powder

Pinch of sea salt

1/2

cup

shredded sharp cheddar cheese

Instructions

Preheat oven to 425 degrees F.

Peel potatoes and slice them into thin wedge-like fries. Place them into a large bowl with hot water, cover and allow to sit for 25-30 minutes. Drain and pat dry.

Line two baking sheets with parchment paper and spray with nonstick cooking spray. Once the potatoes have been patted dry, place them back into the large bowl and toss with the olive oil, salt, black pepper and garlic powder. Toss to coat all fries. Spread the fries out evenly on the baking sheets. Bake for 20 minutes.

While the fries are baking, place a nonstick pan over medium heat.

Spray with nonstick cooking spray once the pan has heated. Add the ground turkey, season with salt and pepper, and allow to cook. Stir frequently, making a point to break up the chunks into smaller crumbles.

Once cooked, push the turkey to the sides and add the sliced peppers, onions and garlic to the center of the pan. Allow to cook until the onions have caramelized.

Add the tomatoes and remaining seasonings. Stir well and let cook for 1-2 minutes.

Add the black beans and cook for 2-3 minutes to warm the beans.

Once the fries have reached 20 minutes, remove from oven and flip. Place back into the oven for 13-15 additional minutes, or longer depending on how thick you cut the fries, as well as how crispy you would prefer them.

While the fries finish baking, combine diced avocado, diced tomatoes, cilantro, lime juice and salt into a small bowl. Toss gently to mix.

Once the fries are done, remove from oven and sprinkle with cheese. Layer with chili mixture and avocado and tomato garnishment. Enjoy!

Recipe Notes

*canned mixture- if you cannot find, regular tomatoes will work as well. Feel free to flavor turkey mixture with lime juice, fresh/dried cilantro and green chilies for additional flavor!

Nutrition Facts

Loaded Chili Cheese Fries

Amount Per Serving

Calories 448

Calories from Fat 160

% Daily Value*

Total Fat 17.8g 27%

Cholesterol 38mg 13%

Sodium 618mg 26%

Total Carbohydrates 53.6g 18%

Protein 21g 42%

* Percent Daily Values are based on a 2000 calorie diet.