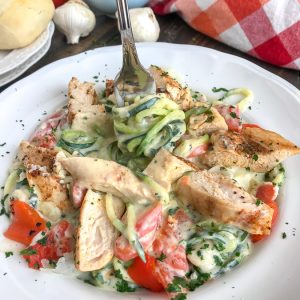 Print
Grilled Chicken Cauliflower Alfredo with Zucchini Noodles
This Grilled Chicken Cauliflower Alfredo with Zucchini Noodles recipe has so much going for it as far as flavor, creaminess, and texture. If you're looking to enjoy chicken Alfredo dish, but also want to cut back on calories - then this is the recipe for you. Not only does it deliver when it comes to flavor, but it serves as the perfect guilt-free indulgence.
Rinse chicken in water and pat dry. Slice chicken to desired strip thickness. Or wait to cut until after cooked.

Using a brush, coat the chicken with approximately 1/2 tablespoon of olive oil and season with salt, garlic powder, paprika, and pepper.

Place a grill pan (or regular pan) over medium heat. Add olive oil and allow it to heat.

Once heated, add the chicken to the pan allowing to cook 8-10 minutes, or until done.

Place a separate large pan over medium-low heat with olive oil. Once heated, add the roasted red peppers and zucchini noodles - stirring to cook them through.*

If desired, season noodles with additional garlic powder and a dash of sea salt.

When the noodles have cooked (yet still have some firmness), add the chicken and cauliflower alfredo sauce. Stir to combine.
*Be sure to drain as much of the water from the jar of roasted red peppers as you can. The zucchini will naturally provide water when it's cooked.Using frozen roasted red peppers may add additional water as well. Allow them to thaw and pat dry.
I used a store-bought jarred version for convenience purposes, but I do highly recommend roasting them yourself as fresh is always best. Follow my
How To Roast Red Peppers
directions - they won't steer you wrong! Very easy to do.
*Time will be dependent on how thickly cut your chicken breast is.
*If you cook zucchini noodles too long, they will be mushy.
Calories:
270
kcal
|
Carbohydrates:
15.3
g
|
Protein:
28
g
|
Fat:
11.4
g
|
Saturated Fat:
2.6
g
|
Polyunsaturated Fat:
6.5
g
|
Cholesterol:
60
mg
|
Sodium:
1001.2
mg
|
Fiber:
3.7
g
|
Sugar:
8.7
g