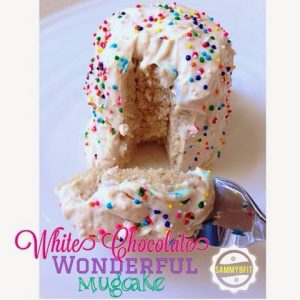 I woke up in such a good morning this morning. I was full of energy & ready for my Step Aerobics class. Yes, I am taking that class. It's not what I would consider a class you sweat much in, but maybe my sweat glands aren't working properly? Hahaha. 
I decided to treat myself to a little post-workout snack today. And, of course, being in the good mood that I am in- the sprinkles match that mood! No, they are not considered "clean," but if you follow my blog- you know that I love by a 90/10 rules. 90% clean, 10% not-so-clean. I find that it is much easier to live this way & is a vast improvement on the life I once lived. 
Now, onto the cake! That's why you're here, right? Haha. 
Recipe makes 1 mugcake, or if you don't have a large mug- will make 2 small mugcakes. 
Breakdown: (with icing, no sprinkles) 
1/2 tsp butter extract, or vanilla (butter gives it more of a cake-like taste)
1 tbsp. 0% plain Greek yogurt
1/4 cup unsweetened almond milk
Stevia, to taste (I used 1 1/2 tbsp. of Vitacost Stevia Plus)
1/4 cup 0% plain Greek yogurt
1 tbsp. White Chocolate Wonderful peanut butter by Peanut Butter & Co
Combine all ingredients in a mixing bowl & mix thoroughly. Spray the inside of a large mug (or two small) with non-stick cooking spray. Pour the cake batter into the mug(s) and microwave for 2 mins. Be careful & watch closely to avoid a mess. The mug cake will cook upward and may spill over. Simply stop every 30-45 seconds if it looks as though it's going to spill over. Remove from microwave, flip over onto a plate & top with icing.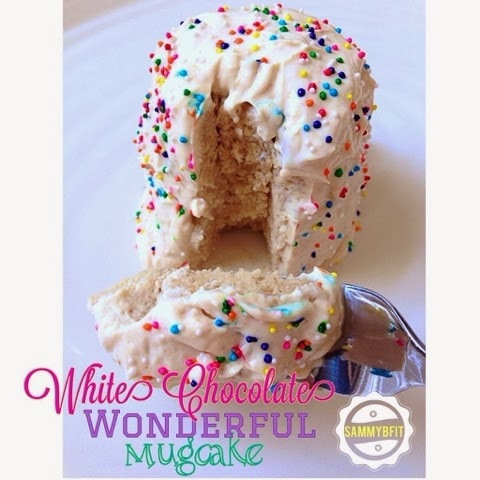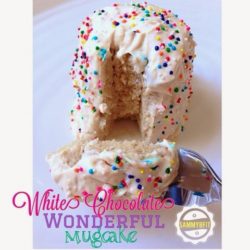 Disclaimer:
The nutritional information provided on each recipe on With Peanut Butter on Top is given as a courtesy and as approximate only. We cannot guarantee the accuracy of the nutritional information given for any recipe on this site. Nutritional information varies per brand/product. We recommend using an app to calculate full and accurate nutrition based on your ingredients used per recipe. Thank you! 🙂