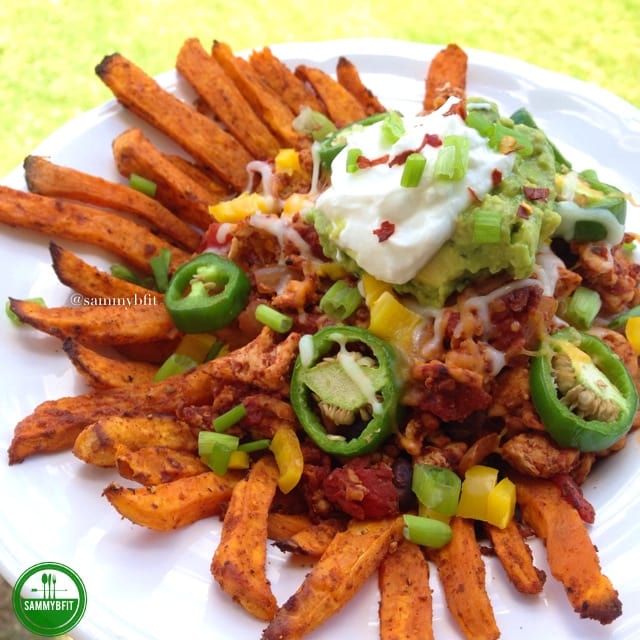 This is a plate of perfection. Why? Who doesn't love chili, cheese and fries? Especially sweet potato fries? This is comfort food made healthier and I am all about enjoying food without the guilt. These Sweet Potato Fry Nachos are made with baked sweet potato fries, ground chicken rather than beef, and topped with healthy fats from the avocado mash with just a sprinkle of cheese!
Just admit it – when you even think of chili nachos, or chili cheese nachos, your mouth starts to salivate. You think of a plate piled with your favorite fixings and before you know it – you're ordering them from your favorite restaurant and devouring more than you should without any thought of possibly sharing. Am I right? We've all been there. Nachos are one of those guilty pleasures that will always make our salivary glands go crazy!
These nachos, however, can be enjoyed with a fraction of the guilt. The sweet potato fries are baked, not fried, and I substituted the traditional ground beef for ground chicken, as we cut back on our beef intake last year. We simply prefer to eat lean cuts of meat when we do eat meat. These baked fries are loaded with a mildly spicy ground chicken mixture, sautéed peppers and onions, and just a dab of my favorite mashed avocado mixture.
A recipe that even you friends can enjoy when its game day! This dish is hearty enough to fill any mans appetite. And let's be honest – boys tend to eat a lot. Especially during game day festivities.
These Sweet Potato Fry Chicken Nachos are the perfect way to enjoy comfort foods, without the guilt, and perfect for those with large appetites.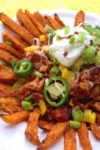 Sweet Potato Fry Chicken Nachos
Ingredients
Sweet Potato Fries:
4

medium sweet potatoes

washed & peeled

1

tbsp. olive oil

1/2

tsp. garlic powder

1/2

tsp

onion powder

1

tsp. dried oregano

1/4

tsp. ground cumin

1

tsp. smoked paprika

Salt & pepper

to taste

1/2

tsp. cornstarch
Chicken:
1/2

lb

ground chicken

1/4

cup

onion

chopped

1

tsp. garlic

minced

1/2

tsp. ground cumin

Salt & pepper

to taste

1/2

tsp. smoked paprika

1/4

tsp. chili powder

1/2

cup

diced tomatoes

1/4

cup

black beans

1

jalapeno

sliced

1

bell pepper

chopped
Toppings:
1/4

cup

plain Greek yogurt

1

scallion

chopped (white & green parts)

Dash of crushed red pepper flakes
Avocado Mix:
1/2

cup

avocado

1/4

tsp. dried parsley

1/2-1

tbsp

lime juice

to taste
Instructions
Preheat the oven to 450 degrees F. Wash and peel the sweet potatoes and cut into fry-shaped slices. Approximately 1/4 inch thick or so. Try your best to cut them all into evenly thick slices so that they will bake evenly.

Place the fries into a large Ziploc bag. Sprinkle 1/2 teaspoon of cornstarch into the bag at a time and shake the bag well to evenly coat the fries.

Add the olive oil, shake very well, and then add the remaining seasonings. Shake the bag again to evenly mix the seasonings over the fries.

Cover a cookie sheet or baking sheet with parchment paper and place the fries in a single layer evenly apart from one another. If they are not spaced out- they will not cook thoroughly. You will have softer fries, rather than crispy fries.

Place the sheet into the oven to bake for 15 minutes, then flip so that they can cook on each side. I find that it is easiest if you layer and space the fries so that they are in rows. This makes flipping them with a spatula halfway through much easier. Place them back into the oven for an additional 12-15 minutes, watching at the 10 minute mark. Time will be dependent on how thick of slices you made. You will know when they are done.
While your fries are baking...
Place a large non-stick pan over medium heat.

While the pan is heating, combine the ground chicken, seasonings, minced garlic & onion into a bowl and stir well. Once the pan is heated, spray with non-stick cooking spray (I use Grapeseed Oil for medium-heat cooking) and add the chicken mixture. Cover and allow to cook, stirring frequently.

While the chicken is cooking, mash together the avocado, parsley and lime juice and set aside until needed.

Once the chicken mixture is close to done- reduce heat to medium-low. Add the jalapeno slices, diced tomatoes, bell pepper, and black beans. Stir to mix and allow to cook for 2-3 minutes.

Remove the fries from the oven and pile the toppings on!
Nutrition Facts
Sweet Potato Fry Chicken Nachos
Amount Per Serving
Calories 460
Calories from Fat 145
% Daily Value*
Total Fat 16.1g 25%
Cholesterol 50mg 17%
Sodium 76mg 3%
Total Carbohydrates 57.3g 19%
Protein 24.2g 48%
* Percent Daily Values are based on a 2000 calorie diet.