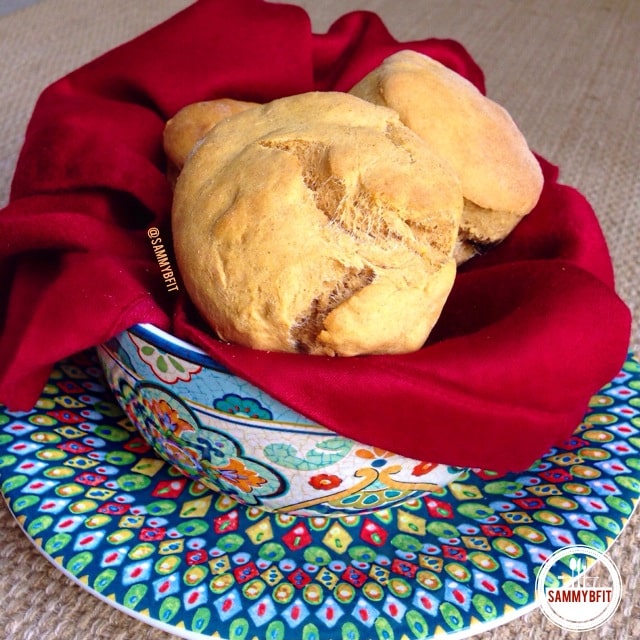 Fluffy, delicious, subtly sweet homemade Sweet Potato Biscuits – perfect for any meal, any time of the day. Pair this with chili, as a side to your dinner, dip it in some gravy, or warm it up and spread some nut butter on it in the morning for breakfast. These are heavenly.
Raise of hands on who loves biscuits? I know there are many of you carbivores (yes, you read right) out there. Don't be shy. I can eat bread like it's nobody's business. Doesn't matter if its soft, fluffy roll, the crust off a slice of bread, or crusty, chewy French bread. I'm always game.
So why not kick it up a few notches and add a bit of flavor … with sweet potato!
I was beyond thrilled by how these biscuits turned out. Fluffy with a slight hint of sweet potato flavor. Which makes it perfect for pairing it with other foods. Nothing better than a neutral recipe, right?
One key to having fluffy, thick biscuits is all in how you cut them. One thing I prefer to do is to roll out the dough to approximately 1/2-3/4 inch thickness. This way, with the help of the baking powder, the biscuits will rise to around two to three inches – avoiding flat disc biscuits.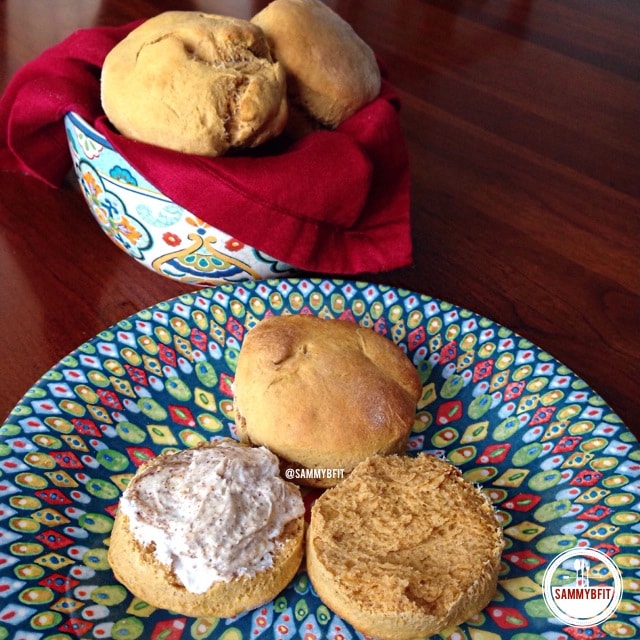 The next morning I warmed one up for breakfast and I couldn't help but add a spoonful of my favorite nut butter spread. I mix 1 tablespoon of nut butter with 2 tablespoons of plain greek yogurt, adding a bit of stevia and dash of cinnamon. Absolutely perfect!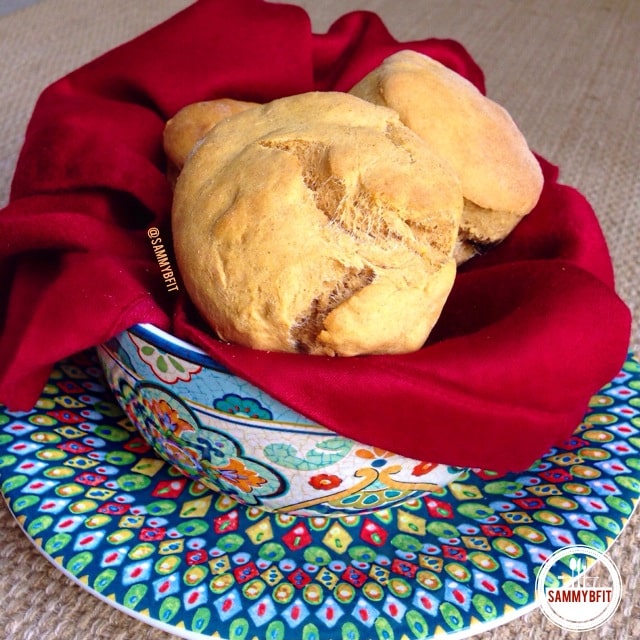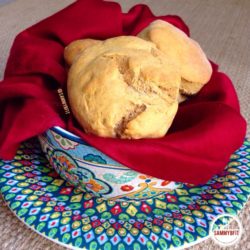 Ingredients:
1

cup

whole wheat flour

(plus 1/4extra for dusting/rolling)

1

cup

whole wheat pastry flour

2-3

tbsp. powdered Stevia

(or sweetener of choice)

1

tbsp. + 2 tsp. baking powder

1/2

tsp. salt

1

cup

mashed sweet potato

1/4

cup

coconut oil

(solid)

1/4

cup

unsweetened almond milk
Instructions:
Preheat oven to 425 degrees F.

Line a baking/cookie sheet with parchment paper and set aside.

In a large mixing bowl, combine flours, baking powder, and salt. In a separate mixing bowl combine the almond milk, sweet potato and coconut oil. Mix well and combine with the flour mixture.

Mix well and knead for 3-5 minutes until well incorporated.

Coat the counter with approximately 1/4 cup flour and roll out the dough approximately 1/2 inch thick. I used a drinking glass to cut the dough into approximately 10 biscuits.

Place each one onto the baking sheet approximately 1/2-1 inch apart.

Bake for 10-12 minutes. They will continue to cook once out of the oven. Enjoy!
NUTRITION:
Nutrition Facts
Sweet Potato Biscuits
Amount Per Serving
Calories 165
Calories from Fat 60
% Daily Value*
Fat 6.7g10%
Sodium 90mg4%
Carbohydrates 23.1g8%
Protein 3.1g6%
* Percent Daily Values are based on a 2000 calorie diet.
Disclaimer:
The nutritional information provided on each recipe on With Peanut Butter on Top is given as a courtesy and as approximate only. We cannot guarantee the accuracy of the nutritional information given for any recipe on this site. Nutritional information varies per brand/product. We recommend using an app to calculate full and accurate nutrition based on your ingredients used per recipe. Thank you! 🙂