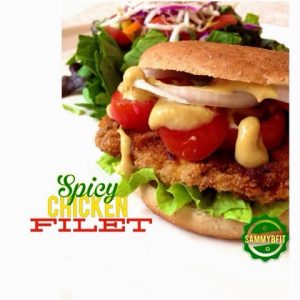 Hoorah! This meal turned out to be such a success! I have been craving such terrible-for-you food lately. Today's terrible craving? The Spicy Chicken Sandwich from Wendy's. I won't lie, I could eat two of those bad boys in one sitting. I have that much love for them. But I certainly do not love the fact that they are fried, filled with sodium, and very high in calories.
So I set out on a mission to make my own rendition. I did NOT make a recreation of it. I simply made a healthier alternative, as I always try to do with the foods that I used to eat. I will definitely be making this again very soon and I certainly look forward to trying this recipe out on my husband when he gets home!
Wendy's Spicy Chicken Sandwich:
510 calories
18g total fat
55g carbs
27g protein
My Spicy Chicken Filet:* (1 sandwich)
236 calories
4.5g total fat
28.9g carbs
25.4g protein
*this includes 1 Slimwich Bun
(Bun: 90 calories, 1g total fat, 19g carbs, 4g protein)
Which would you rather have?
What you will need:
(1) 3 oz chicken breast
1 tbsp. Whole Wheat Panko crumbs
1 tbsp. egg white
1 tbsp. oat flour (or flour of choice)
Dash of black pepper
1/4 tsp. Mrs. Dash Southwest Chipotle
Dash of chili powder
1 tsp. Franks Red Hot Sauce
1/8 tsp. cayenne pepper
Directions:
In three separate bowls:
1) Panko crumbs, Mrs. Dash, cayenne pepper, black pepper,& chili powder
2) oat flour
3) egg white
Preheat the oven to 375 degrees F. Line a baking sheet with aluminum foil and heavily spray the foil with non-stick cooking spray. I used canola oil. For the chicken breast, I used Tyson Natural chicken breast. I sliced a 8oz breast into three thinner slices. The sandwich slice turned out to be 3 oz in weight. Rinse the chicken breast and pat dry. Dredge the chicken through the egg white, followed by the oat flour, and then the panko/seasoning mixture. Place the chicken breast onto the baking sheet and add the hot sauce. I shook a few drops around it on one side, smoothed it with the crumbs with a spoon, and did the same to the other side. Place into the oven to bake for 10 minutes. Remove from the oven, flip the filet, and place it back into the oven for an additional 10 minutes. Time will be dependent on how thick your slice is.
Remove from the oven & enjoy with the toppings & condiments of your choosing!
If you make & post to Instagram, please tag @sammybfit for credit & hashtag #sammybfit so that I can see your wonderful recreations! 🙂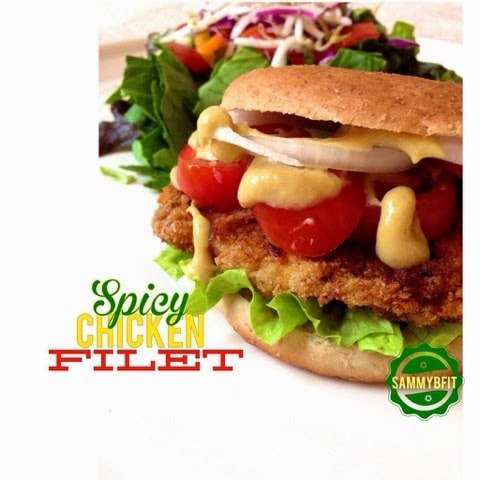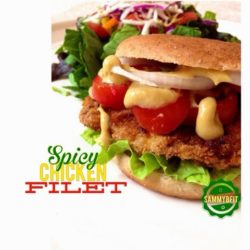 Disclaimer:
The nutritional information provided on each recipe on With Peanut Butter on Top is given as a courtesy and as approximate only. We cannot guarantee the accuracy of the nutritional information given for any recipe on this site. Nutritional information varies per brand/product. We recommend using an app to calculate full and accurate nutrition based on your ingredients used per recipe. Thank you! 🙂