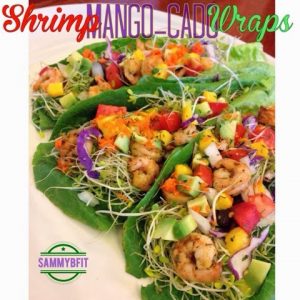 There is nothing I love more than Mexican food! Whether its the salt, the endless spices, or the margaritas, I have always been hooked.  The only problem is that when you go out for Mexican with family or friends, you spend most of the time chatting away, crunching on chips and guacamole and guzzling down Tequila. Not something that agrees with the waistline! So tonight I was craving taco's and although this is an authentic Mexican meal, or even close, it was still amazing and certainly hit the spot! I didn't feel like heading to the store, so I improvised with what I had.  Now, if only I had a frozen margarita with these.
Breakdown: (1 of 3 wraps)
4.6 g total fat (healthy fats)
3oz cooked shrimp, peeled, deveined & tail off
1/2 tsp. Mrs. Dash Southwest Chipotle
2 tbsp. onion, finely chopped
1/4 cup black beans, drained and rinsed
Directions:
Saute shrimp over medium heat in olive oil. Season with cilantro, southwest chipotle, and cumin. Cook for 2-3 minutes, occasionally stirring.  While you're waiting for your shrump to cook, start preparing your fillings. Once the shrimp is done, remove from heat and prepare your wraps. Wash and cut the ends off of the romaine leaves and pat dry. Assemble wraps with fillings listed, or fillings of choice,  and squeeze 1/2 lemon over all three wraps fillings. Enjoy!
If you post to Instagram, please be sure to tag me @sammybfit and hashtag #sammybfit so that I can see your wonderful remakes and to give credit!
Any questions, please leave them below!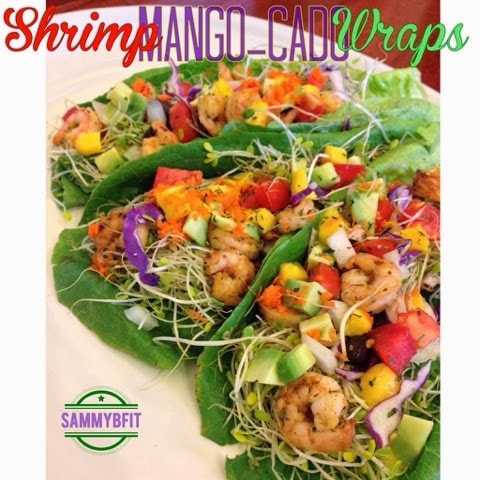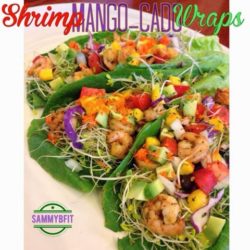 Disclaimer:
The nutritional information provided on each recipe on With Peanut Butter on Top is given as a courtesy and as approximate only. We cannot guarantee the accuracy of the nutritional information given for any recipe on this site. Nutritional information varies per brand/product. We recommend using an app to calculate full and accurate nutrition based on your ingredients used per recipe. Thank you! 🙂