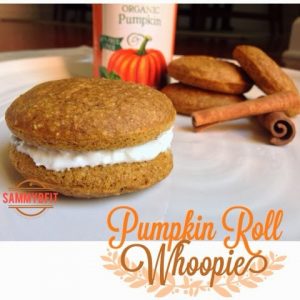 Why roll it when you can Whoopie it?! This was absolutely scrumptious! Moist, creamy, and full of flavor! Did I mention that it's healthy?
Nutrition Breakdown (per Whoopie):
What you will need:
Cakes:
1/4 cup whole wheat pastry flour
Dash of: ground ginger, cloves, and nutmeg
1/4 cup unsweetened almond milk
Sweetener, of choice & to taste (I used Stevia)
Filling:
1/4 cup + 2 tbsp. 0% plain Greek yogurt
3 tbsp. Tofutti Cream Cheese, or choice
Sweetener, of choice & to taste (I used Stevia)
Directions:
Preheat oven to 350 degrees F. In a mixing bowl combine dry ingredients and stir. In a separate bowl combine all wet ingredients and stir well. Incorporate wet into dry and mix thoroughly. 
Spray your Whoopie pie pan with non-stick cooking spray and scoop 1 1/2 tbs. of the pumpkin mixture into each well. Spread out and smooth with a spoon. Place into the oven and bake for 7-9 minutes or until firm in the center. 
Remove from the oven and place each one onto a cooling rack. In a mixing bowl combine all ingredients for the filling and stir well. Divide the filling amongst 6 of the pumpkin cakes and then top with remaining cakes, like a sandwich, and enjoy!
If you post to Instagram- please tag @sammybfit & hashtag #sammybfit so that I can see your remakes!
*** Substitute at your own risk & expense!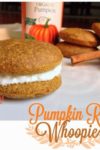 Pumpkin Roll Whoopie