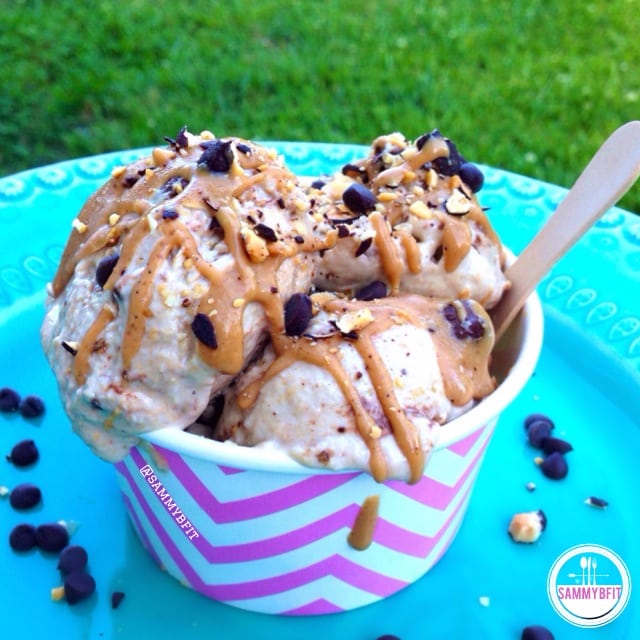 This idea came to me by chance. The concept may seem strange, but I promise you– it's worth it. When you can get your husband to eat it and have him make noises of sheer bliss and ask for more, you know you did a good job! 
I don't know about your loved one, or even yourself, but my husband and I are big ice cream fans. On a hot summer day – all you want is ice cream melting in a cone (preferably a waffle cone here). But I can never bring myself to buy any of the cartons of ice cream at the store. They either contain too much sugar, fat, or are very high in calories, not to mention a laundry list of ingredients. And let's be completely honest with each other here… you end up eating more than 1-2 servings. Am I right? Guilty here! Not to mention any toppings that you add. My favorite is peanut butter (duh!), nuts, maybe some Reese's cups, and the generous amount of hot fudge. Absolute perfection there.
But that's certainly not the healthy way to go, now is it??
So I decided that if I am going to 'have my cake and eat it, too' – I wanted to indulge without quite as much guilt. Without feeling guilty for having more than one serving and without worrying about what exactly is in my ice cream – because I have full control. There's a win/win if I ever read one. Don't get me wrong – just because I choose to eat healthy and control what goes into my body doesn't mean I don't enjoy a Nutter Butter or candy bar from time to time. Or more often than I care to admit to you on here. 
Hey! Life is short. No judging here.
This recipe is naturally sweetened with bananas. I added powdered Stevia for additional sweetness, but that is just what my taste buds prefer. Keep in mind: not all Stevia brands are the same degree of sweetness. What may take 1 tbsp of one brand, may take more or less from another. So treat it like salt – start small and add per your taste preference.
If you're not a fan of Stevia, feel free to either omit or sweeten with maple syrup or honey! Just be sure to factor it in with the nutrition provided with the recipe.
This recipe makes approximately 4 1/2 cups of ice cream – which you can easily place into a freezer-safe container and store in the freezer for a few weeks.
If it lasts that long.  😉
But feel free to cut the recipe in half or to the desired amount.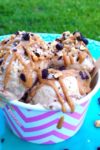 Peanut Butter Chocolate Chip Ice Cream
Ingredients
4

cups

0% plain Greek yogurt

1

cup

PB2

or 1/2regular peanut butter

2

tbsp. powdered Stevia

or sweetener of choice & to taste*

3

medium bananas

frozen

1

tbsp. pure vanilla extract

1/4

cup

semisweet cacao chips
Optional Toppings:
Semi-sweet cacao chips

Toasted almonds

crushed
Instructions
The night before:
Slice 3 medium bananas into small pieces and place them into a Ziploc freezer bag and into the freezer.

For the Greek yogurt, I used a cheesecloth to strain as much of the liquid from it that I could until it reached a thick, creamy consistency - much like cream cheese. This helps give the ice cream the creamy consistency that you would find in regular ice cream.
How to strain Greek yogurt:
Line a small strainer with a cheese cloth & scoop desired amount of plain Greek yogurt into the cheese cloth.

Place the strainer over a bowl to hang - giving it room at the bottom for the yogurt to strain down. If your strainer is too big or you don't have a bowl to do this in - twist the top of the cheese cloth, place it over the lip of a mason jar and place a rubber band around the mason jar to secure it. Make sure it is hanging in the mason jar.

Cover and refrigerate overnight to strain. Or if you don't have the night to do this, simply pull the edges of the cheesecloth up over the Greek yogurt, twisting it closed to ensure nothing will accidentally squeeze out, and squeeze freely over a bowl or directly into your sink and down the drain.
The next day:
Remove the bananas from the freezer and allow them to thaw slightly. While the bananas are thawing, scoop the "cream cheese" from the cheesecloth into a food processor or blender. Combine with the vanilla extract, sweetener (if any) and bananas. Process until it reaches a creamy consistency.

While you're waiting, prepare the PB2 by combining it with approximately 2/3 cup or more of water. If you do not use PB2, you can simply substitute it with 1/2 cup (or more, to your taste preference) of regular peanut butter, or any nut butter of your choice. Process until the peanut butter has fully mixed with the ice cream. Pour the ice cream into a freezer safe bowl (or ice cream container), fold in the chocolate chips and place into the freezer for a few hours. Remove, scoop, add your toppings of choice and enjoy!
Nutrition Facts
Peanut Butter Chocolate Chip Ice Cream
Amount Per Serving
Calories 153
Calories from Fat 25
% Daily Value*
Total Fat 2.8g 4%
Cholesterol 4mg 1%
Sodium 109.2mg 5%
Total Carbohydrates 20.5g 7%
Protein 13.9g 28%
* Percent Daily Values are based on a 2000 calorie diet.