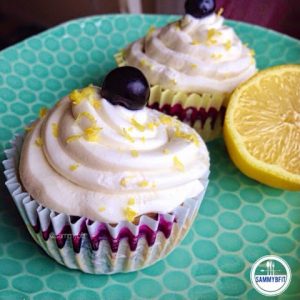 What you will need:
Cupcakes:
1 cup unsweetened almond milk
1 tsp. apple cider vinegar
1/2 cup whole wheat pastry flour
1/2 cup powdered Stevia, or sweetener of choice & to taste*
1/4 cup unsweetened applesauce
1 large egg, or sub flax egg**
1 1/2-2 tbsp. freshly squeeze lemon juice (I did 1 1/2 tbsp.)
Frosting:
1 cup 0% plain Greek yogurt, strained (Fage is my preferred)
1 tsp. pure vanilla extract
Sweetener, of choice & to taste (I used Stevia)
Directions:
Preheat oven to 350 degrees F and line a muffin tin with cupcake wrappers. 
In a small mixing bowl, combine almond milk and apple cider vinegar. Give it a good whisk and set aside for 8-10 mins. The texture will change a bit.
In a mixing bowl combine the applesauce, egg, and lemon juice. Stir well. In a separate larger mixing bowl, combine the flours, sweetener of choice, baking powder, salt, and baking soda. Mix well and slowly incorporate the wet ingredients with the dry ingredients. Fold in the blueberries last.
Pour batter into the prepared pan, filling each wrapper approximately 3/4 full. Bake for 18-22 mins, checking at 18 minutes. An inserted toothpick should come out clean. Remove and allow to cool completely.
While the cupcakes are cooling, prepare the frosting. Its easier if you prepare the Greek yogurt portion the night before (as linked above), allowing it to drain a bit before adding the extract and sweetener. In a medium-sized mixing bowl- combine the ingredients for the frosting and stir well. You can spread or pipe onto cupcakes. Top with blueberries, sprinkles, or the zest of a lemon. 
Be sure to store in an airtight container in the fridge.
*All powdered Stevia brands are different. I use Vitacost Stevia with Fiber. Please sweeten to taste a few tablespoons at a time. You do not need to use Stevia. Feel free to use any type of sweetener you prefer. Just be sure to add in the additional calories and macros for it.
**A flax egg: 1 tbsp. flax meal + 3 tbsp. water, mix well and allow to sit for 10 minutes. Will thicken.
Lemon Blueberry Cupcakes with "Cream Cheese" Frosting