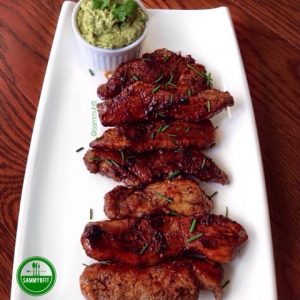 This recipe is best prepared to marinate overnight!
Chicken:
Avocado Dip:
Chicken Marinade:
2 medium boneless, skinless chicken breast (1 lb)
1 tbsp. Raw Coconut Aminos, or low-sodium soy sauce
For cooking:
1 avocado, peeled, pitted & diced
Salt & pepper, to taste (pinch of each)
1/3 cup 0% plain Greek yogurt
1 tbsp. freshly squeezed lime juice
Slice each chicken breast into four equal strips. Place the strips into a large Ziploc bag with the marinade ingredients and allow to soak in the fridge overnight. When you're ready to cook, remove from the fridge and place a non-stick cooking pan over medium heat.
Add the olive oil and allow to heat up. Once heated, add the balsamic vinegar and honey. Stir well. Once mixed and thickened slightly, add the chicken tenders, cover and allow to cook for 3-4 minutes. Flip the tenders and allow them to cook for an additional 3-4 minutes.
While the chicken tenders are cooking, prepare the avocado dip. Place all ingredients into a blender and process until it reaches a creamy consistency. Scrape around the edges and the bottom to make sure that everything has processed down.
Once the chicken tenders have cooked through, remove from the stove and serve with the avocado dip. Any remaining avocado dip can be stored in an airtight container in the fridge and will be good for 1-2 days.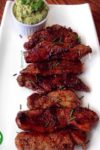 Honey Balsamic Chicken Tenders