Servings: 2
What you will need:
2 large, or 3 medium sweet potatoes, washed & peeled
Directions:
Preheat the oven to 450 degrees F. Wash and peel the sweet potatoes and cut into fry-shaped slices. Approximately 1/4 inch thick or so. Try your best to cut them all into evenly thick slices so that they will bake evenly. Place the fries into a large Ziploc bag. Sprinkle 1/2 teaspoon of cornstarch into the bag at a time and shake the bag well to evenly coat the fries with the cornstarch. Then add the olive oil, shake very well, followed by the remaining seasonings. Shake the bag again to evenly mix the seasonings over the fries.
Cover a cookie sheet or baking sheet with parchment paper and place the fries in a single layer evenly apart from one another. If they are not spaced out- they will not cook thoroughly. You will have softer fries, rather than crispy fries. 
Place the sheet into the oven to bake for 15 minutes, then flip so that they can cook on each side. I find that it is easiest if you layer and space the fries so that they are in rows. This makes flipping them with a spatula halfway through much easier. Place them back into the oven for an additional 12-15 minutes, watching at the 10 minute mark. Time will be dependent on how thick of slices you made. You will know when they are done.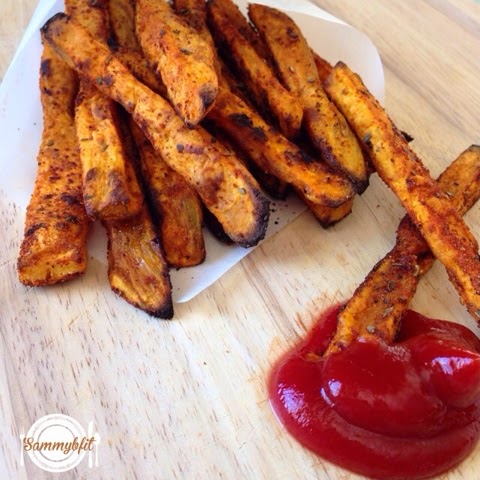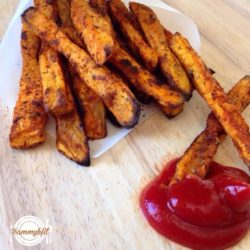 Disclaimer:
The nutritional information provided on each recipe on With Peanut Butter on Top is given as a courtesy and as approximate only. We cannot guarantee the accuracy of the nutritional information given for any recipe on this site. Nutritional information varies per brand/product. We recommend using an app to calculate full and accurate nutrition based on your ingredients used per recipe. Thank you! 🙂