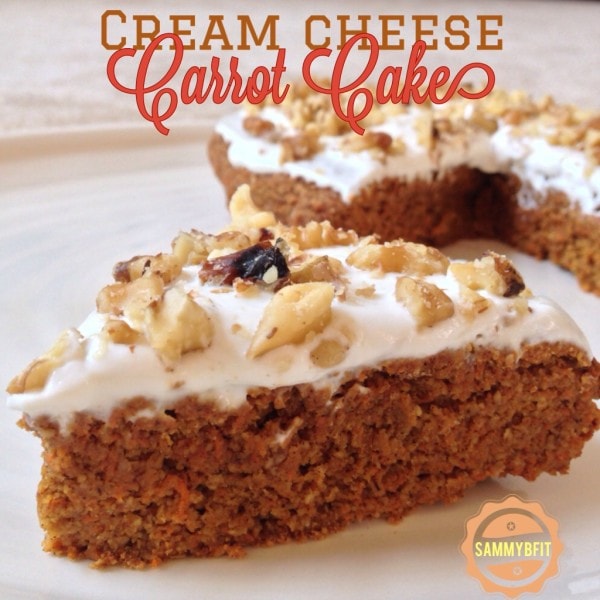 What if I told you this cake's cream cheese frosting is made from a mixture of greek yogurt and cottage cheese and that it actually tastes like cream cheese. Would you believe me? No? Such a skeptic. 😉 Try it!
This Cream Cheese Carrot Cake is moist, fluffy, sweet and absolutely delicious!
Oh my. I have not made a cake for my husband and myself since the first year of our marriage. When we were first married, I was little Miss Betty Crocker. I baked a cake at least once a week, and they were always gone within 48 hours. Yes, just between the two of us. Let's just say it was a deliciously bad habit that needed to be broken. And it was.
But today was a day that gives cause for celebration! My husband surprised me with a plane ticket to Alaska for our third wedding anniversary! I cannot tell you how excited I am for such an amazing trip. I have always just seen the breathtaking views of Alaska through pictures from friends and in magazines. So to be able to actually go hike & kayak one of the worlds most beautiful locations- I am floored! I decided I wanted to bake something out of the ordinary for us. We are traditional chocolate or vanilla cake eaters. My favorite being German Chocolate and his been Confetti Cake. Yes, he is a grown child, but I love him dearly.
 Try this carrot cake, with the cottage cheese based "cream cheese," with an open mind. I guarantee you'll be surprised at how good it really is!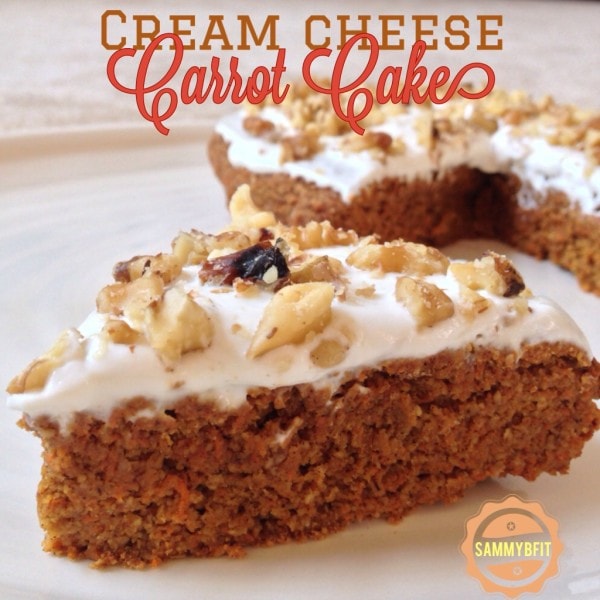 Ingredients:
Cake:
2

cups

oat flour

1

tbsp

+ 1 tsp. ground cinnamon

1/2

tsp

baking soda

1/2

tsp

baking powder

1/4

tsp

ground cloves

1/4

tsp

ground ginger

1/2

tsp

nutmeg

1/2

tsp

allspice

5

large egg whites

1 1/2

cups

grated carrots

1/2

cup

unsweetened apple sauce

cup

Sweetener

(of choice & to taste (I used 1/2powdered Stevia))
Cream Cheese Frosting:
1

cup

low-fat cottage cheese

1/2

cup

0% plain Greek yogurt

1 1/2

tsp

vanilla extract

Sweetener

(to taste (I used 1.5 tsp. powdered Stevia))
Instructions:
Preheat oven to 350 degrees F. Spray a cake round baking dish with non-stick cooking spray and set aside.

In a large mixing bowl, combine all dry ingredients and mix well.

Grate the carrots and combine it with the wet ingredients. Stir well and pour the wet ingredients into the dry ingredients. Mix, mix, mix!

Pour the batter into the prepared baking dish and smooth out the top with a spoon.

Bake for 20-25 minutes, or until the middle of the cake is firm.

Remove from the oven, allow to cool on a cooling rack.

While your cake is cooling, combine all ingredients for the frosting into a blender/processor and process down until the cottage cheese chunks are no longer. Pour onto the cake, smooth out with a spoon, and sprinkle with toppings of choice. Enjoy! Be sure to keep refrigerated!
NUTRITION:
Nutrition Facts
Cream Cheese Carrot Cake
Amount Per Serving
Calories 215
Calories from Fat 55
% Daily Value*
Fat 6.1g9%
Cholesterol 1.2mg0%
Sodium 230mg10%
Carbohydrates 26.6g9%
Protein 13.4g27%
* Percent Daily Values are based on a 2000 calorie diet.
Disclaimer:
The nutritional information provided on each recipe on With Peanut Butter on Top is given as a courtesy and as approximate only. We cannot guarantee the accuracy of the nutritional information given for any recipe on this site. Nutritional information varies per brand/product. We recommend using an app to calculate full and accurate nutrition based on your ingredients used per recipe. Thank you! 🙂