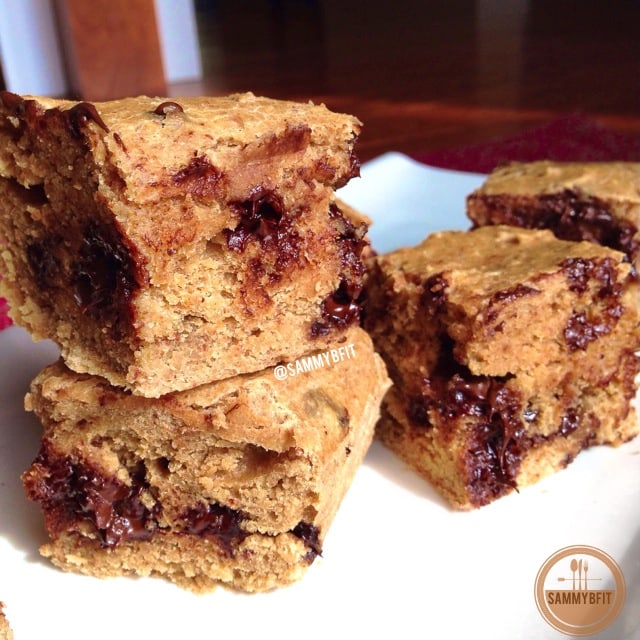 Number of Servings:
Nutrition Per Serving:
What you will need:
1 cup oat flour (processed oats)
2/3 cup powdered Stevia*, or sweetener of choice
1 cup unsweetened applesauce
1/2 cup unsweetened almond milk
1/4 cup almond butter (I used Maranatha)
*I use Vitacost brand Stevia. All powdered Stevia brands have different levels of sweetness. Sweeten to taste. 
**Date paste can be made by soaking 20 dates (pitted) in hot water, covered, for 3 hours. Strain the dates, rinse & toss into a blender or processor with 1-2 tbsp of water until fully puréed.  You can substitute date paste for maple syrup.
Directions:
Preheat the oven to 350 degrees F. In a mixing bowl, combine flours, sweetener (if powdered, if wet- combine with wet ingredients), & baking powder. In a separate mixing bowl, combine date paste, eggs, applesauce, milk, & vanilla extract. Mix both very well and slowly combine the dry ingredients into the wet ingredients. Once mixed, fold in the almond butter and chocolate chips. 
Spray a glass 8×8 baking dish with non-stick baking spray (I used one that contained flour). Pour the batter into the baking dish and spread out evenly with a spoon. Bake for 25-30 minutes, checking at 25 minutes with a toothpick. The toothpick should come out relatively clean. If it comes out with chocolate- try another spot!
Let it cool before cutting. Makes 16 servings. If you prefer thinner bars, use a larger baking dish or cut the recipe in half.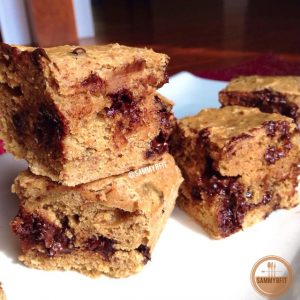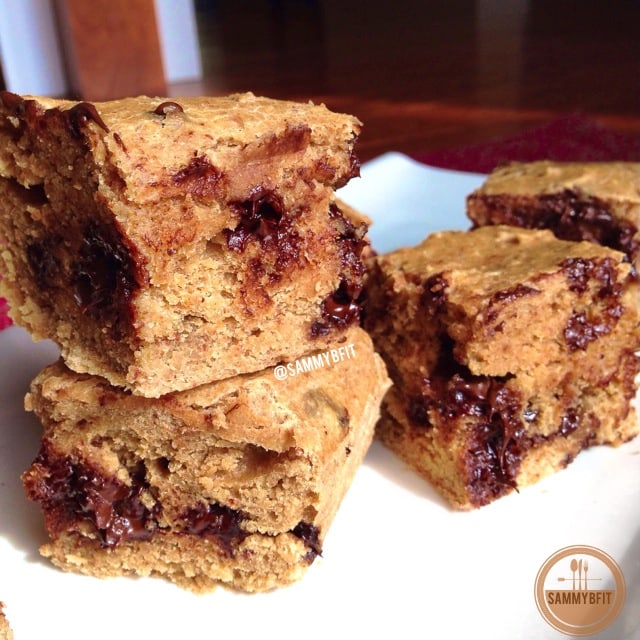 Chocolate Chip Cookie Blondies