You simply can't go wrong when it comes to cherries and chocolate, or even overnight oats for that matter! I will admit, you will start to see many overnight oat concoctions on my blog as I have become quite obsessed with them over the last year. They are so easy to make, delicious, and so good for you! Overnight oats are so forgiving and so versatile. You simply can't mess them up!
I have to say this version is in my Top 5 of Overnight Oats. And if you don't love it, than I am sorry. More for me!
Nutrition Breakdown:
– 6.3g total fat *healthy fat*
What you will need:
1/3 cup + 2 tbs quick oats
1/4 cup unsweetened almond milk
2 tbs 0% plain greek yogurt
1 tbs stevia (or agave, honey if preferred)
Garnishment:
3 walnuts, toasted and crushed, optional
Directions:
In a small bowl, mix together the first 8 ingredients, cover and let sit in the refrigerator for 15-20 minutes to allow the oats to soften. If you're using old fashioned oats or steel cut- I recommend prepping this the night before, as the oats will take longer to soften. 
While you're waiting, you can warm the cherries in the microwave for 10-15 seconds and crush your walnuts- if you are using them as garnishment. Once the oats are softened, stir well. They should be thicker and less runny. If they appear runny- add a tbs or two more of oats and allow to sit. If you opt to use regular yogurt, which is not quite as thick as greek yogurt, cut back on the almond milk to 2 tbs. You need to play with it, depending on the yogurt you use. Some are thinner than others. If it still appears runny at 2tbs of almond milk, add a tbs at a time of additional oats.
Top with the garnishment items and enjoy!
I hope you like it! Any questions or comments, please feel free to leave a comment below! 
If you post on Instagram, please tag me in it with @sammybfit and hashtag my name as well so that your post doesn't get lost in my feed! #sammybfit . If your profile is set to private- I won't see it!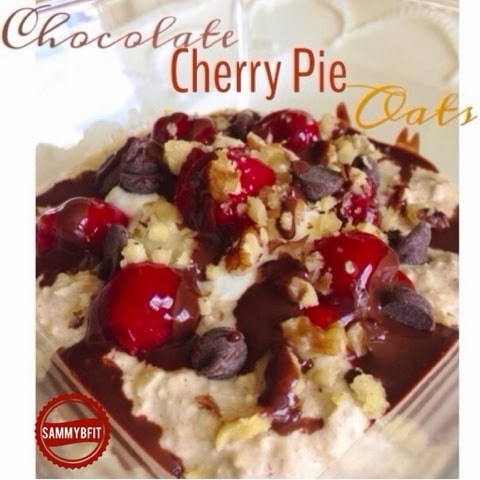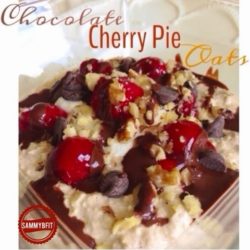 Disclaimer:
The nutritional information provided on each recipe on With Peanut Butter on Top is given as a courtesy and as approximate only. We cannot guarantee the accuracy of the nutritional information given for any recipe on this site. Nutritional information varies per brand/product. We recommend using an app to calculate full and accurate nutrition based on your ingredients used per recipe. Thank you! 🙂