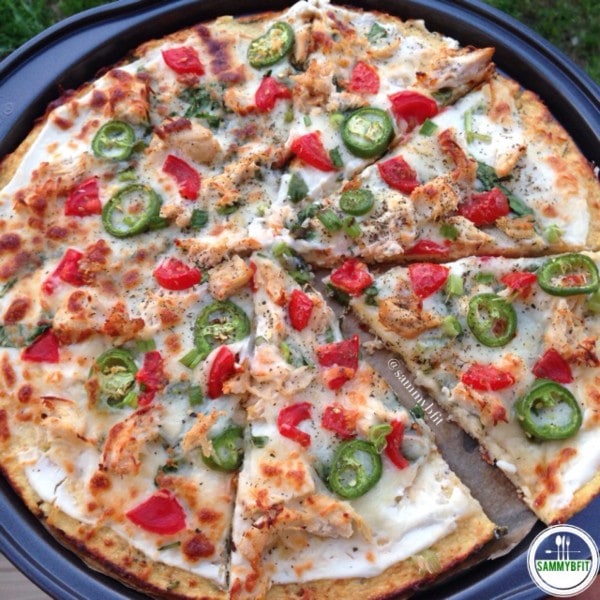 Yep. You read right. Chicken Alfredo Cauliflower Pizza. But what I bet you didn't think when you read the recipe title was that not only is the crust made from cauliflower, but so is the 'alfredo' sauce! Creamy, delicious 'alfredo' sauce.
As I mentioned in my Chicken Alfredo Tortellini post (also made with cauliflower), I will put this creamy deliciousness on anything if I can – pasta, pizza, as a dipping sauce – you name it. The best part? It's super simple to make and so much healthier for you than the traditional alfredo sauce that is filled with heavy cream and butter.
Now, if you're not a fan or part of the 'cauliflower crust craze' – then don't feel inclined to use the crust base of this recipe and at least try the sauce and the toppings on the traditional pizza crust.
If you are going to use the cauliflower crust, the key to making the perfect crust is in removing the moisture (water) from the cauliflower once it's been processed down. If you don't remove the moisture, you will have a soggy crust that either won't cook or will fall apart in seconds. Then you'll either be mad at the crust or mad at me. Maybe both? Haha!
If you're not a fan of the toppings, opt for the toppings and sauce of your choosing. A cauliflower crust is very versatile.
Might I even suggest trying my stuffed Low-Carb Cauliflower Calzone? Stuffed with veggies and cheese – sure to be a taste bud pleaser!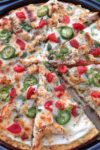 Chicken Alfredo Cauliflower Pizza
Total Time
1
hour
15
minutes
Ingredients
Cauliflower Crust:
1

whole cauliflower head

cut into florets

1/2

tbsp. minced garlic

1

tsp. dried basil

1/2

cup

mozzarella cheese

2

eggs

1/2

tsp. dried oregano

Salt & pepper

to taste
Toppings:
1/2

scallion

chopped

2

cups

mozzarella cheese

1 8

oz

chicken breast

grilled, chopped or sliced

1

roma tomato

chopped

2

jalapeno peppers

sliced

1

cup

baby spinach

chopped

Dash of dried basil
Alfredo Sauce:
1

whole cauliflower head

cut into florets

1

cup

0% plain Greek yogurt

or choice

1/2

cup

mozzarella cheese

1

tbsp. minced garlic

1-2

tsp. sea salt

to taste

Black pepper

to taste

1/2

tsp. garlic powder
Instructions
To Cook the Crust:
Preheat oven to 400 degrees F. Line a pizza pan with parchment paper and set aside.

Cut the cauliflower into small florets and place them into a food processor. Blend until the cauliflower has reached a rice-like consistency.

Once blended, transfer it to a microwave-safe bowl and microwave for 4 minutes. Remove, fluff with a fork and cook for an additional 3-4 minutes. Allow it to cool for 3-5 minutes before handling.

Lay out a cheese cloth (or thin, clean towel). Place the cauliflower into the center, fold up and wring the cauliflower to remove a majority of the moisture.

Transfer it back to the same bowl and add the cheese, eggs, minced garlic, and seasonings. Stir very well. Spoon and spread the cauliflower mixture onto the pizza pan, smoothing from one end to the other, filling the entire pizza pan - if you can. Make sure to spread it evenly and thinly so that they crust can cook thoroughly.

Bake for 40-45 minutes, checking at 35-40. The crust should lift up off the parchment paper and be firm to the touch.
The 'Cauliflower' Alfredo Sauce:
While the crust is baking, place a deep, medium pot of water over high heat. Allow the water to come to a boil. Add the cauliflower florets and cook for 5-7 minutes, or until they have softened. Strain the cauliflower and place into a food processor, or blender.

Add remaining ingredients (minus the cheese) and process until it reaches a creamy, sauce-like consistency. Taste test the sauce and add any additional salt, pepper or garlic to your taste preference.

Fold in the mozzarella cheese. It should melt in quickly. Cover and set aside.
The Toppings:
Once the pizza has cooked, remove it from the oven and add the toppings. Add 1 cup of sauce (storing the rest in an airtight container), cheese, chicken and remaining toppings. Place the pizza back into the oven to bake for 9-10 minutes, or until the cheese has melted and the toppings have cooked through.
Recipe Notes
*If you do not have a pizza pan, feel free to use any baking sheet that you have and spread into the shape of your choosing.
Nutrition Facts
Chicken Alfredo Cauliflower Pizza
Amount Per Serving
Calories 234
Calories from Fat 89
% Daily Value*
Total Fat 9.9g 15%
Cholesterol 80mg 27%
Sodium 665mg 28%
Total Carbohydrates 12.7g 4%
Protein 26g 52%
* Percent Daily Values are based on a 2000 calorie diet.