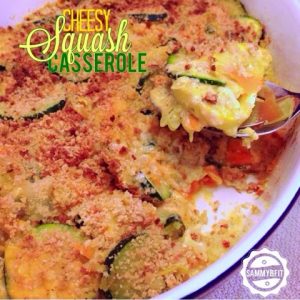 This tasted like Heaven! My husband and I are fans of anything that comes out of a casserole dish! There were cheesy potatoes served at one of my family get togethers this past weekend for Thanksgiving. I sampled a bit of it, but knew it wasn't one of the healthiest options that I could fill & nourish my body with. 
So I decided to make a healthier version! I had planned on adding cauliflower, but realized I didn't have anything but squash. But I can't say it was an inconvenience. My husband and I had more than one serving- it was that good!
Nutrition breakdown: (1 of 6 servings)
What you will need:
4 cups sliced yellow squash & zucchini squash, or 3 large squash
1/2 cup 0% plain Greek yogurt
1 cup Go Veggie Shredded Cheddar Cheese
1/4 cup shredded Parmesan cheese
1/4 cup unsweetened almond milk
1/2 cup whole wheat Panko bread crumbs
Directions:
Slice the squash into thin slices, finely chop the onion, & slice the carrot with a cheese slicer.  Place the squash, carrots, onions, and  yogurt butter into a large skillet over medium heat. Allow the squash to cook until it has softened. Preheat oven to 350 degrees F and spray a casserole dish with nonstick spray. 
Combine the cheeses, Greek yogurt, almond milk, and seasonings into a bowl and mix well. Once the squash mixture has cooked until soft- transfer it all to the mixing bowl and stir very well to incorporate the cheese mixture. Scoop it all into the prepared casserole dish. Top with the bread crumbs and bake for 20 minutes. When done- place the oven to low broil for 1-2 minutes or until the top has browned slightly.  Enjoy!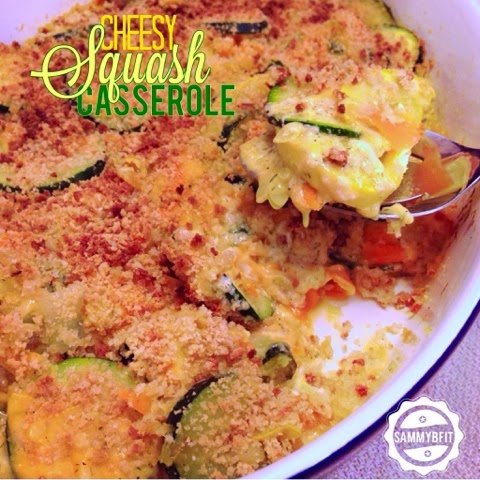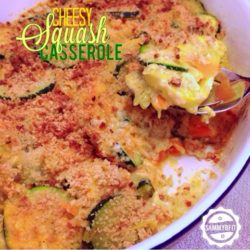 Disclaimer:
The nutritional information provided on each recipe on With Peanut Butter on Top is given as a courtesy and as approximate only. We cannot guarantee the accuracy of the nutritional information given for any recipe on this site. Nutritional information varies per brand/product. We recommend using an app to calculate full and accurate nutrition based on your ingredients used per recipe. Thank you! 🙂