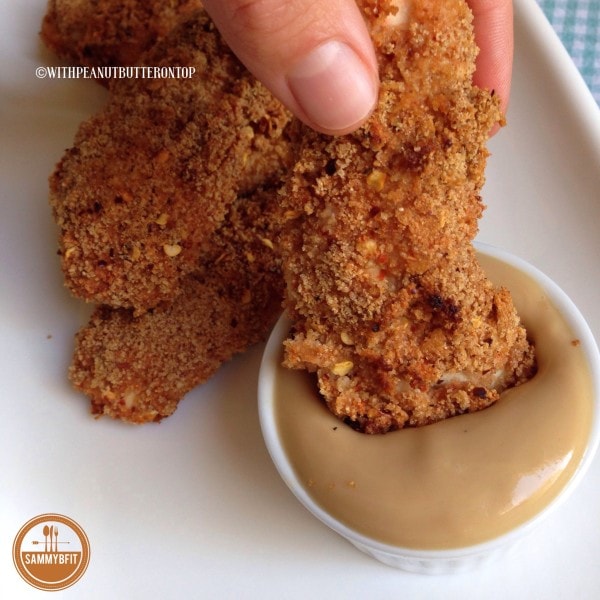 Who doesn't love crispy, crunchy chicken fingers? Growing up, chicken fingers were amongs several of my favorite foods. But most of the chicken fingers I ate came in the processed form from a fast food chain, restaurant or bag from the freezer section. Albiet delicious, they certainly were not healthy or nutritious. This is yet another comfort recipe healthifed for your current craving!
These are baked, not fried. And they are super simple to make; your whole family will love them. Did I mention they can be altered to be kid friendly with the removal of the hot sauce and red pepper flakes?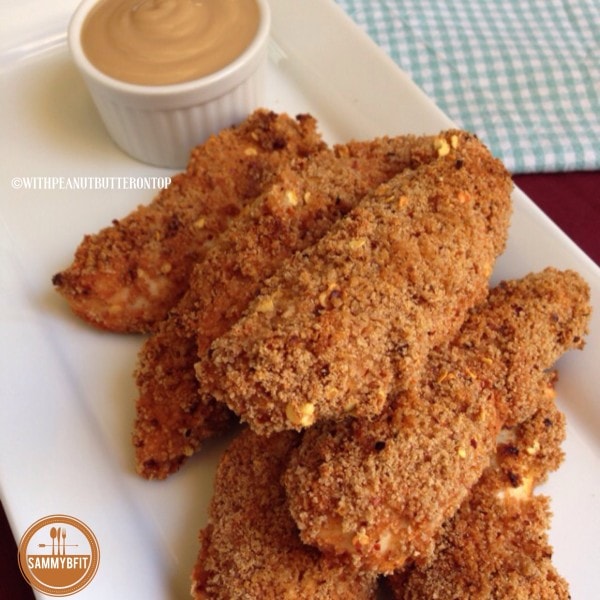 I've made these chicken fingers a lot lately because they're on the healthy side of things and they are super simple to make, require only a handful of ingredients, and are not at all labor intensive.
The chicken fingers are baked, not fried, and the crispy outside is due in thanks to the whole wheat panko breadcrumbs. You can find panko breadcrumbs in many grocery stores near the stuffing and traditional breadcrumbs.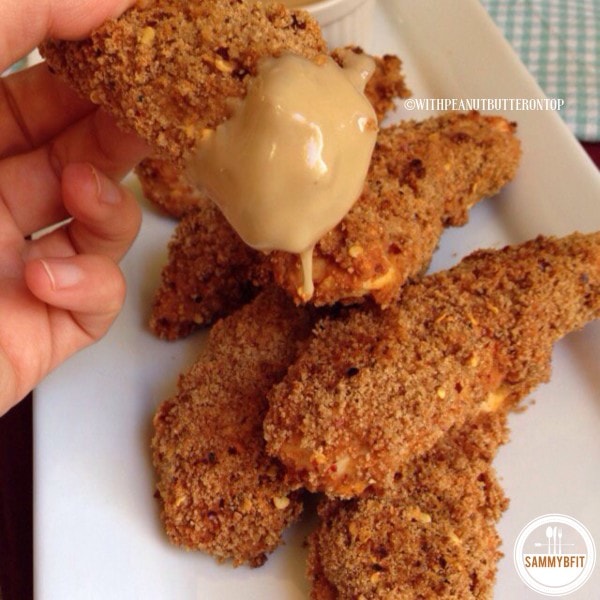 Serve with your favorite dipping sauce. Mine happens to be Annie's Organic Honey Mustard (I am in no way affiliated with Annie's, but I do recommend their brand of condiments, amongst other products they offer, as they are made with real organic ingredients). I used to love BBQ sauce for dipping, but have sinced ceased using any condiment whose first (or second) ingredient in sugar. And as you know – the ingredients list on labels lists ingredients in order of the quantity (or amount) in which it can be found in the product. So when you take the time to look at the nutrition label and the first ingredient listed is sugar – you know that sugar is the prevalent ingredient in that product. Meaning there is more sugar in that product than any of the remaining ingredients listed.
So the next time you're looking at condiments, or any item for that matter, don't forget to look at the ingredients listed under the nutrition label. You'll be quite surprised at what you read.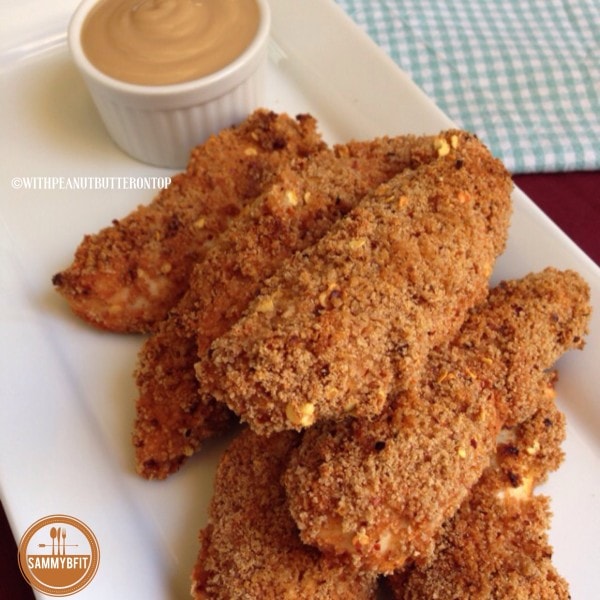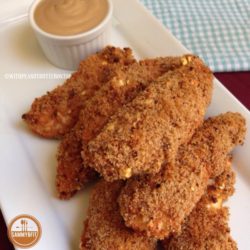 Ingredients:
1

lb

all-natural chicken breast tenderloins

1

tbsp

crushed red pepper flakes

1

cup

Ian's Whole Wheat Panko Breadcrumbs

(or choice)

1

tsp

onion powder

1

tsp

garlic powder

Salt & pepper

(to taste)

1/3

cup

Frank's Red Hot Sauce

1

large egg white
Instructions:
Preheat oven to 400 degrees F. Prepare three separate bowls; one with the egg white, one with the hot sauce and one with the breadcrumbs, red pepper flakes, onion powder, garlic powder, and salt and pepper, to taste. I placed the breadcrumbs and seasonings into a food processor and processed down until it was a bit of a finer texture, as Ian's breadcrumbs are a bit crunchy and thick. This is a matter of preference, but not necessary.

Rinse each chicken breast and pat dry.

Dip each chicken tender into the egg white, followed by the hot sauce, and then the breadcrumb mixture. Toss the crumbs to coat the chicken. You may need to press the breadcrumb mixture into the tenders to get a good coating.

Spray a baking sheet with non-stick spray and lay each tender flat onto the tray. Spray a light mist of the non-stick cooking spray over the nuggets.

Place into the oven and allow them to bake for 20-23 minutes or until they are thoroughly cooked, checking at 20 minutes. Allow them to cool slightly before handling and serving with your favorite dipping sauce!
NUTRITION:
Nutrition Facts
Baked Spicy Chicken Fingers
Amount Per Serving
Calories 186
Calories from Fat 12
% Daily Value*
Total Fat 1.3g 2%
Cholesterol 71mg 24%
Sodium 651mg 27%
Total Carbohydrates 16.1g 5%
Protein 26.6g 53%
* Percent Daily Values are based on a 2000 calorie diet.
Disclaimer:
The nutritional information provided on each recipe on With Peanut Butter on Top is given as a courtesy and as approximate only. We cannot guarantee the accuracy of the nutritional information given for any recipe on this site. Nutritional information varies per brand/product. We recommend using an app to calculate full and accurate nutrition based on your ingredients used per recipe. Thank you! 🙂