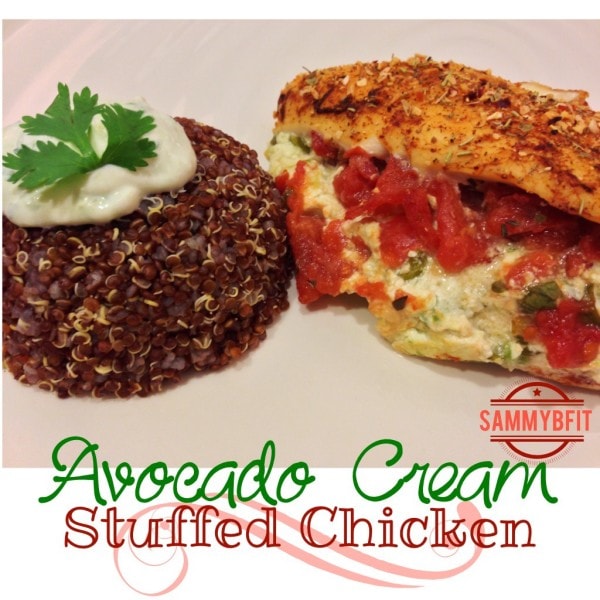 I love avocados. Those three little words seem like the biggest understatement for how I truly feel about this delicious, green, buttery fruit.
I love anything and everything about them. Whether they are baked in cookies or cakes, served with cottage cheese, on a salad, or maybe even in stuffed into a chicken breast?  And what's not to love about them? They are jam packed full of nutrients – mainly healthy monounsaturated fat (healthy fats!) and fiber.
Tonight I decided to stuff chicken breasts (because who doesn't love stuffed chicken breast??) with an avocado tomato cream sauce. And… it … was… delightful!
Give it a try, avo-fan! And if you're new to avocados, I bet you're a fan once you try this dish!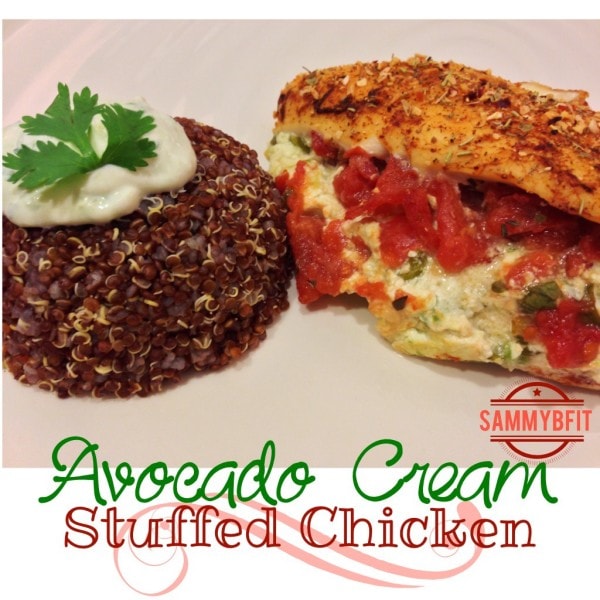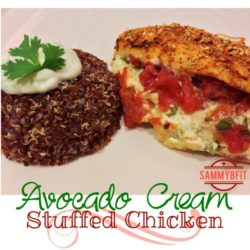 Ingredients:
Avocado Cream Sauce:
1/2

avocado

1

tbsp. lemon juice

1

scallion

(chopped fine)

1/2

tbsp. fresh cilantro

(chopped)

1/2

tsp. minced garlic

Salt & pepper

(to taste)

2

tbsp. Tofutti Cream Cheese

(or cream cheese of choice)

2

tbsp. 0% plain Greek yogurt

(or choice)
Chicken & Seasonings:
4 oz. boneless

(skinless chicken breasts, 4)

1/2

tsp. ground cumin

1/2

tsp. chili powder

1/2

tsp. cayenne pepper

1/2

tsp. paprika
1/4

cup

No Salt Added diced tomatoes

1

tsp. garlic powder

(divided 4 ways)

1

tsp. oregano

(divided 4 ways)

1

tsp. Mrs. Dash Chicken seasoning
Instructions:
Preheat the oven to 375 degrees F. Spray an 8 x 8 baking dish with nonstick cooking spray.

Slice the edges of each chicken breast and fold open.

In a mixing bowl, combine all seasonings for the chicken and stir well. Rub the seasonings onto the tops of the chicken breasts. In a separate mixing bowl combine all ingredients for the cream sauce. Be sure to mash the avocado thoroughly.

Divide the cream sauce into the inside of each chicken breast.

Add 1 tbsp. of tomatoes to the top of each cream sauce, followed by the garlic powder and oregano.

Fold the chicken breast over and close with a toothpick.

Season the top with Mrs. Dash Chicken seasoning and place into the oven for 30-40 minutes.Time will be dependent on the thickness of the chicken breast. Watch it at 30 minutes. Remove from oven and enjoy!
NUTRITION:
Nutrition Facts
Avocado Cream Stuffed Chicken
Amount Per Serving
Calories 247
Calories from Fat 56
% Daily Value*
Total Fat 6.2g 10%
Cholesterol 99mg 33%
Sodium 157mg 7%
Total Carbohydrates 4.7g 2%
Protein 26.8g 54%
* Percent Daily Values are based on a 2000 calorie diet.
Disclaimer:
The nutritional information provided on each recipe on With Peanut Butter on Top is given as a courtesy and as approximate only. We cannot guarantee the accuracy of the nutritional information given for any recipe on this site. Nutritional information varies per brand/product. We recommend using an app to calculate full and accurate nutrition based on your ingredients used per recipe. Thank you! 🙂